The Plot:
Feudal Era Japan is filled with killer bugs! 100 years ago, giant, violent insects started terrorizing and attacking humanity. In order to combat their new foes, the Shogunate created the City Patrol, a group dedicated to finding warriors capable of defeating them. Kotori Matsunohara, the commander of the City Patrol, has already enlisted Hibachi, a female ninja specializing in explosives, Shungiku Koikawa, known as "The Killer of 99″, Mugai, an incredibly powerful swordsman with a mysterious past, and Tenma Ichinotani, an onmyouji with the power to summon two, giant, powerful paper dolls. Jinbei Tsukishima, an extremely cheerful and naive young samurai, has come to join the City Patrol in place of his father, who was unfortunately injured protecting Jinbei. Can Jinbei live up to the expectations of his father, his commander and his new comrades?
Animeism Says:
Alexander – 4-Star Dragon Ball – Mushibugyo is good enough to watch, but not good enough to sit your friends down and make them watch. I enjoy the character designs and the personalities of some of the side characters, but the story as a whole is very average and the action sequences are short and occasionally uninspired. That all being said, it is still worth watching if you can enjoy a simple beat-em-up series.
The Trailer: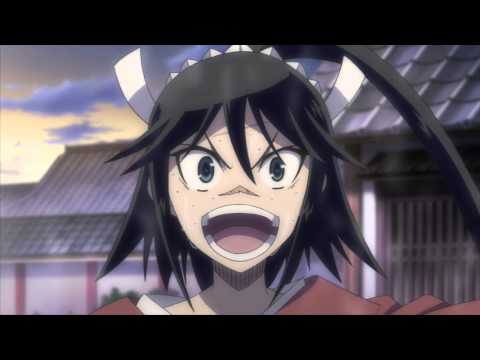 Available for free streaming at Crunchyroll.
Manga
Written by – Hiroshi Fukuda
Japanese Publisher – Shogakukan
Magazine – Weekly Shonen Sunday
Original Run – 2011 – ongoing
Volumes – 10
Anime
Driected by – Takayuki Hamana
Written by – Yoichi Kato
Studio – Seven Arcs
Licensed by – Crunchyroll
Japanese TV Netwrok – TV Tokyo, AT-X
Episodes: 26