The Plot:
15 Super High School Level students have been selected to attend the incredibly elite high school Hope's Peak Academy. Amongst them is Makoto Naegi, a young boy who has been accepted on account of his Super High School Level Luck. Upon arriving at the front gate, Makoto falls unconscious and wakes up inside the high school, along with the other 14 students. The Principle of the school, Monokuma, a cruel sadistic, remote-controlled, robotic teddy bear, informs the students that they are to spend the remainder of their lives locked in this school. Monokuma then reveals that there is only one way to graduate from the academy and leave the premises – Murder a fellow student and don't get caught.
Animeism Says:
Alexander – 5-Star Dragon Ball – I enjoy Danganronpa: The Animation quite a bit. It has a unique plot and a VERY unique antagonist. It's kind of like a combination of the board game "Clue" and the movie series "Saw" presented in the form of a Japanese animation series. I would recommend this anime to anyone who is bored of watching series with the same plots, tropes and themes.
The Trailer: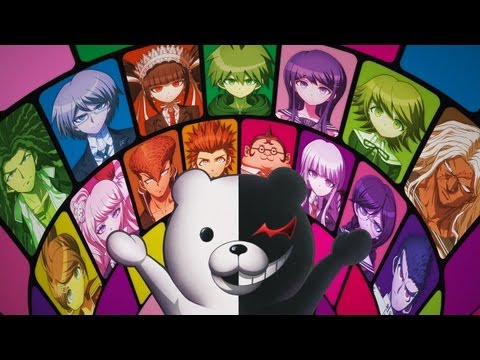 Available for free streaming at Funimation and Hulu.
Manga
Written by – Spike Chunsoft
Japanese Publisher – Kadokawa Shoten
Magazine – Shonen Ace
Original Run – July 2013 – ongoing
Anime
Driected by – Seiji Kishi
Written by – Makoto Uezo
Studio – Lerche
Licensed by – Funimation
Japanese TV Netwrok – MBS, TBS, CBC, BS-TBS
Original Run – July 4, 2013 – ongoing
Episodes: 13